Checking the timeliness of fees is an important activity that is carried out by the financial department of each language school. With it, you can check whether students are in arrears with payment.
The LangLion Platform allows you to create a student debt report. What's more, you can send them a notification about the necessity of settlement.
How to draw up a student debt report?
1. Go to the "Reports" tab.
2. Click the "Select report" button.

3. On the list of reports, select "Students – payment plan in groups".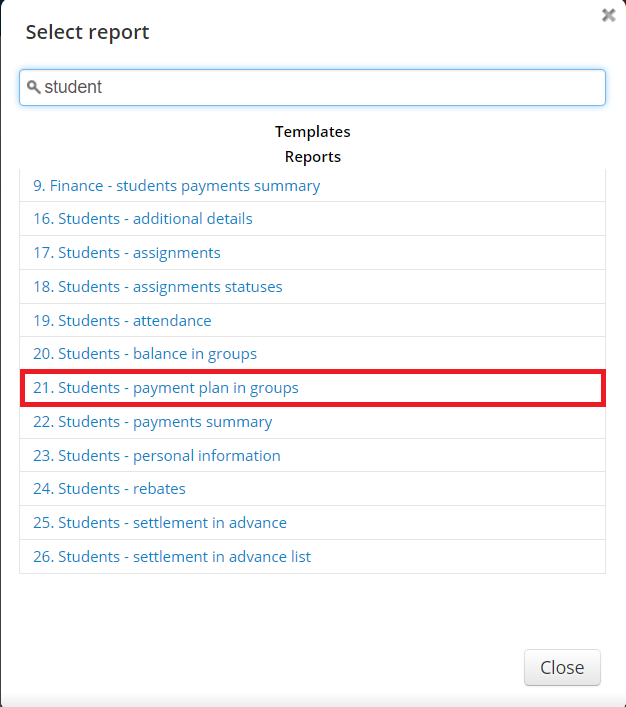 4. The report is displayed, however, to show the debtors, enter the filters by clicking on the "Filter" button.

Recently, the name changed in one of the report columns as it was doubled- "Date of payment" was changed to "Payment due date". The functionality of the report itself is exactly the same. The current article already includes the new nomenclature.
5. In the search window we have to insert filters:
"Payment due date" – "greater or equal" – here we select a date from the calendar – we set the start date of our target area.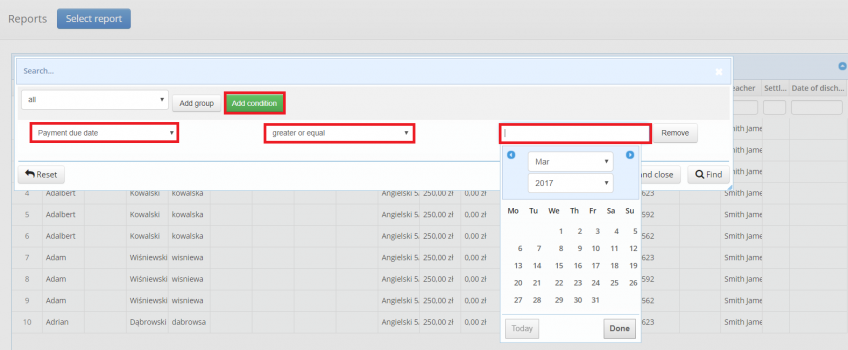 6. When you want to apply another filter click on "Add condition".
"Payment due date" – "less or equal" – date on calendar – end date of target area
"Left" – "Greater" – insert number 0 – this will exclude students who have paid the full installment and the report will show those who have not paid the installments.
7. To show the report click on "Search and close".

8. The report shows us students in debt for a defined period of time.
There is a second way of preparing students debt report. The "Reports" module has default templates: "Debtors> 14" and "Debtors> 0". You can run it in the same way as "Students- payment plan in groups".

Once you have finished editing the filters, click the "Search and close" button to display the results, then the filter changes will not be saved in the template. If you want the filters you have changed to be saved, click the "Save Template" button.