Integration with Kontomatik allows you to automatically collect payments from students directly from the linked bank account and display them on the LangLion Platform.
How to connect your bank account to the LangLion Platform?
First, go to the Finance -> Settings -> Automatic import from the bank tab and enter the settings for the automatic creation of transactions and invoices.
Option to automatically create transactions/invoices
If you want to create transactions automatically, select the Automatically create transactions option and select the default product for such deposits.
Using the option of automatic creation of transactions, it is also possible to enable the option of automatic creation of invoices. Thanks to this, invoices will also be created for all payments that will go to the Auto tab, in addition to automatically created transactions.
In order to use this automation, all you have to do is select the Automatically create invoices  option in the Settings tab and select the default numbering for invoices created in this way.
Save the changes by clicking the Save button.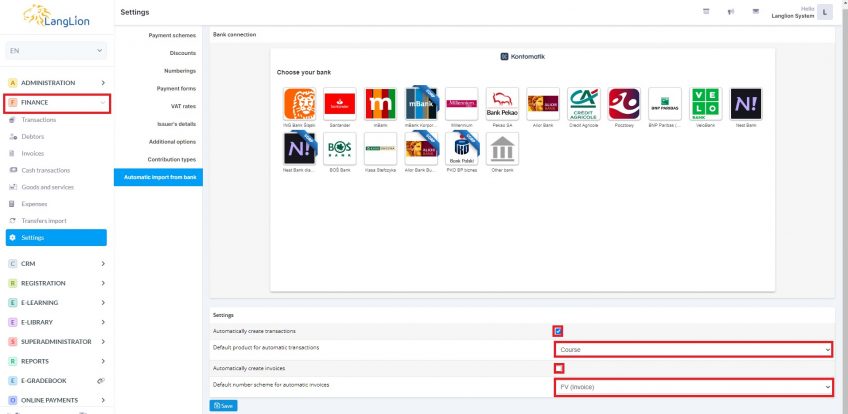 Automatic sending of invoices
You can automate your work even more thanks to the option of automatic sending of accounting documents. You can set invoices to be automatically sent to students' e-mail addresses immediately after creation.
To do this, go to the Finance -> Settings -> Additional options tab and mark the Automatic sending of invoices/cash documents to the user's email address
option.
You can also create the content of the e-mail sent with the invoice attached.

After saving the settings in the Automatic import from the bank tab, a window will appear enabling you to select the bank from which you want the payments to be automatically uploaded to the LangLion Platform.
Select your bank by clicking on the icon with its logo.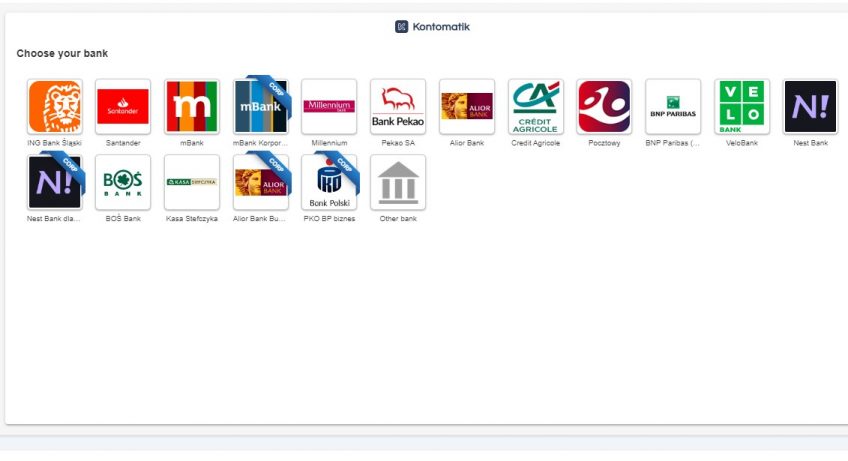 Then enter your e-mail address, select consents and click Next.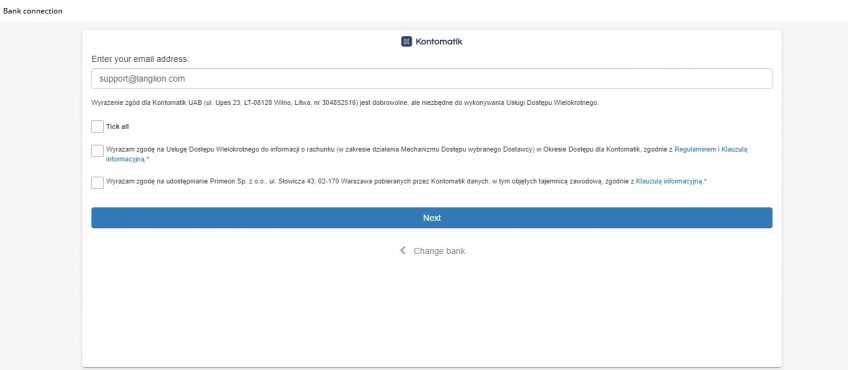 After clicking "Next", a window regarding the authorization of the selected bank will appear. Follow the instructions that appear.
After a properly completed process of integrating the LangLion Platform with the selected bank, the first import will be made for the period from the beginning of the day on which the account was connected, and then once a day at midnight.
If for some reason the payments are not imported, the next import will cover the time range from the last successful import.
If you have established Departments on our Platform, you must connect to the bank on each of them separately.

after the transfers are automatically imported from the bank, they will be divided into Solve Manually, Not matched and Auto, in accordance with the rules applicable to manual import of transfers.
When using the automatic import of payments via Kontomatik, you should not use the manual import of transfers for the same time period at the same time. The reason is the inability to unambiguously detect duplicates, which may result in multiple assignment of the same payment to the student.