Now, besides Zoom and ClickMeeting you can use integration with Citrix GoToMeeting. Besides communication with participants, by using GoToMeeting you can share a screen or record a meeting.
How to start?
In the first step sign in to GoToMeeting and purchase a host account. You can find more information about GoToMeeting at https://www.gotomeeting.com/
How to proceed with the integration?
That's simple: click the Settings tab in the Secretariat module and go to the Online classes tab. Then select the GoToMeeting option as the main provider of online classes in the system. Then, go to the section below and click the Add account button in the GoToMeeting section. If you have more host accounts add them one by one.

Now you can assign an account to the Teacher. Go to the Teachers tab, select a teacher, click on the pencil icon (Edit)

In the Additional Information tab, select the GoToMeeting user of this teacher.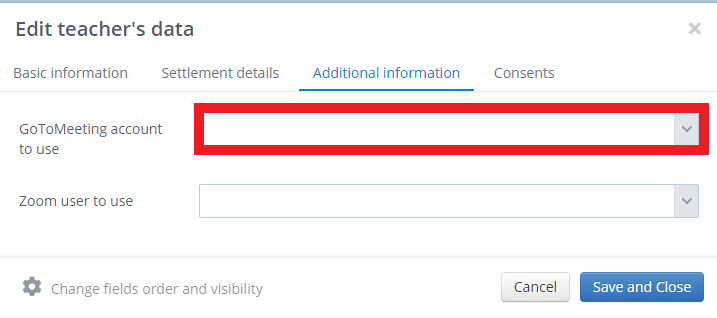 How to remove the account?
Just click Remove button next to the linked account in the Settings tab. The account will be unlinked and credentials removed from the system.